We're fast approaching the end of the school year, and for many districts, this means a week of finals/end-of-course exams (EOCs). Since my school is already on a block schedule, we don't modify the classes at all.
However, I know that some non-block schools change to two-hour blocks for each period to allow extra for students that take longer to test to ensure that they can do their best.
The reality is that the vast majority of students finish well within that time frame, which leaves teachers with the daunting task of planning something that :
Isn't instructional, since students will most likely be mentally "done" by that point and don't see the point in learning
Is engaging enough to keep students busy so that they don't wreak havoc,
Won't get them in trouble (like showing a movie that parents haven't explicitly permitted their child to watch 🙈).
With that in mind, I came up with a few ideas for activities that teachers can do with little setup and/or planning. The good thing is that they're still somewhat educational (internet searches are an essential skill, right?)! While some of these require technology, others can simply be done with good old pencil and paper.
Top _____ Lists
As much as I hate articles that are entitled "_____ Reasons Why……" or "The Top _______ Skills You need," or something in that vein, these types of lists can be fun for students when you open it up to their interests. Just imagine the excitement when you let someone write their Top 10 Kanye West Songs of All Time! The key is that the list be based on what they're excited about, not what you think is interesting.

I try not to give too many suggestions because I think it stifles their creativity, but some ideas are:

Top 10 Soccer (fútbol) players of this decade
Top 10 songs of 2015
Top 10 Xbox games
Top 5 Youtube stars
etc…
They can do this in virtually any note taking app or program, but what takes it to the next level is making it social. By that, I mean sharing with the rest of the class (more on that below)!
My Plans Over Break (with pictures)
Students can choose to either 1) write about what they're going to do on Summer Break, or 2) what they wish they could do over break. It doesn't have to be extensive, maybe a paragraph or two.  They should also include one or more images to accompany these paragraphs (Creative Commons images of course, or their original ones).
Here's an example:
For Summer Break, I plan to travel to the east coast. While I'm there, I'll be going to a few fun places.
 Start my vacation at the Portland Headlight in Portland, ME. This lighthouse is among the most photographed lighthouses in America.
We'll head over to the Ben & Jerry's Factory in Vermont because ice cream is life!
Along the way I plan to go on a Niagara Falls boat tour! If I'm going to be there, I should get up close, right?
You get the idea!
Create a meme
I'm particularly excited about this one. Students will take an appropriate line from any song, and turn it into a meme.
According to Dictionary.com, a meme is "a cultural item in the form of an image, video, phrase, etc., that is spread via the Internet and often altered in a creative or humorous way." You've probably seen many of them online and didn't even know it had a name. Here's one I created using a meme generator: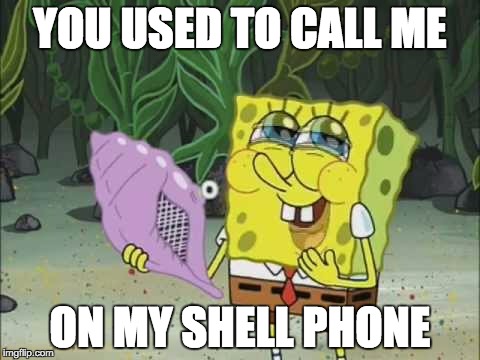 Part of what makes a meme "viral" is that it refers to something that is generally known and acknowledged in pop culture. This quote comes from "Hotline Bling" by Drake, which is old, but I can't get past the opportunity for wordplay! I simply took a photo and put the quote on it.
Students will have a lot of fun with this and can use various apps and programs. If you're using iPads, then Canva and PicCollage are easy to use and have free apps. I actually prefer Canva over other apps and programs because they have awesome pre-built templates, a ton of free images, and is quite intuitive!
It's important to note that you should monitor the memes they create. Obviously, the humor in this activity can open itself to students being inappropriate. However, this is easy to spot because a student will be snickering about it, showing it to the students beside them who in turn snicker uncontrollably, followed by a panicked look and frantic deleting when you approach them.
So they've created something, now what? MAKE IT SOCIAL!
This culminating activity takes some set up on your part, but I can hardly say that it's time-consuming. You'll first need to create a Padlet, which is so easy to sign up for!

Once you've created your Padlet, you need to share the link with your students somehow. You could copy the URL and then paste it into your LMS so that students can access it, send it out through Google Classroom or Remind, email it, write it on the board, etc.

Once students are into the Padlet, they post their lists, images, memes, etc., and comment on them. The social aspect of it makes it so much more engaging than just creating something on their device that nobody will ever see!

It's critical that you create a new one for each class since each Padlet will become crowded (you may even have students asking if they can make another example to post).

Finished the activities above, but there's still time left? Try Geoguessr!
A couple of years ago, I wrote a post about using Geoguessr in my class as a team building activity. This takes some basic account set up, but after that, it's easy to get your class going.
First, go to the Geoguessr website.
In the upper right-hand corner, click on "Sign Up"
Either enter your email or click on "Sign up with Google+." Follow the prompts.
Once you've finished signing up, click on "Challenge Mode." You can choose to set a time-limit to make it more challenging (although I wouldn't do that the first time they try it).
After you click on "Next," you'll be given a URL. Send or post this URL for your students. They MUST all be in to play against each other!
When they enter the URL, they'll be asked to type in their email. Then they can proceed to the challenge.
Once they're in, the players appear somewhere in the world on a randomized Google street view. The object of the game is to figure out where they are, and then drop a pin on the provided map as close to the location as possible. The more precise they are, the more points they earn. They go through five rounds, with a potential for 5,000 points per round.
The players can move along the roads and paths by clicking on the arrows. They should use their "surroundings" as clues, such as road signs, names of businesses, etc. They can zoom in to get a better view, however, the picture often becomes distorted or pixelated. Also, most license plates are blurred out for privacy reasons.
Some glitches on iOS
On the iPad, it can be glitchy, so students are sometimes kicked out and have to start over. Therefore after each round, I have someone in their group record their points and add them up. If they do get kicked out, they already know where to drop the pin and can proceed to the next round. When everyone has finished, we go around to each group and see who scored the most points.
The students are engaged throughout the entire time! They have to be careful not to yell out locations since other teams listen in for clues. Also, I usually suggest that they split up the work, so that there's always one or two people moving along the map, and another person Googling the names of streets and landmarks.
There you go!
Hopefully, you'll find some of these useful for this last and final stretch before the holidays. A little bit of planning today will go a long way in maintaining your sanity without defaulting to a movie after finals (which, let's be honest, doesn't always keep them quiet anyway!).