My standards-based grading journey
Standards-based grading has been a part of my educational journey, and I'm working on refining it.  A few years ago in my early foray into English Language Arts, I attempted this on a whim but quickly became overwhelmed with it.  It seemed far too labor-intensive in terms of grading, and I'm already a slow grader as it is. However, the idea stuck with me, and I kept encountering it in articles on the web.  I knew I liked the idea of it, but wasn't sure how it would work.  I really had to think about why I grade, what the grades represent and communicate, who does grading truly benefit, and how is grading improving student achievement.
It took a couple of years of teaching English to be able to answer those questions with confidence.  I've had many conversations with my fellow educators about their grading philosophy, and it really made me examine my own.  I finally had the answers to those grading questions when last year I was mentoring a new teacher about his grading policy.  I wanted to make sure that he too answered those questions. While I offered him my opinion, I implored him to think about his past self as a student, as well as how his past teachers' grading policies were beneficial or detrimental to his education.
Where I'm at now
Fast-forward to this week, and I finally set up my simplified standards for my gradebook in Jupitergrades.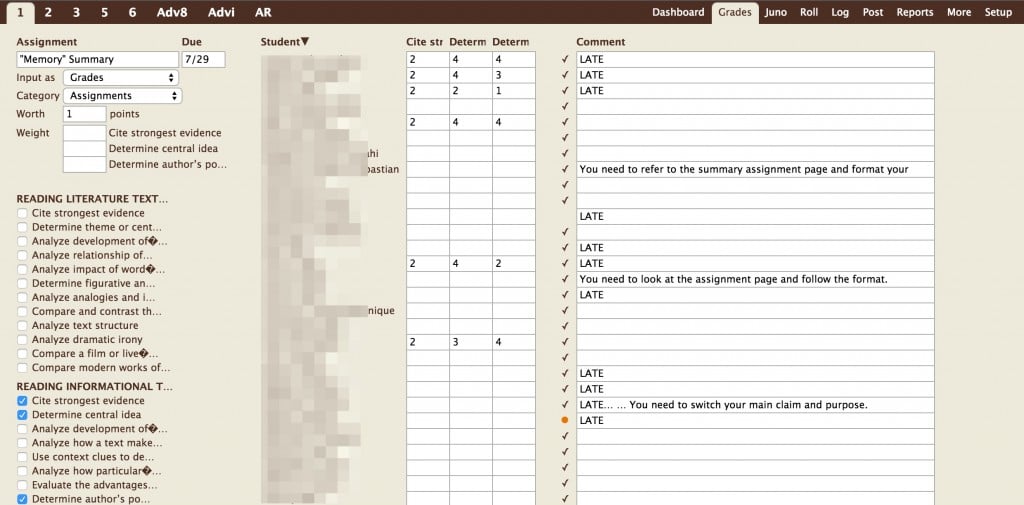 As you can see, I have a LONG list of standards on the left, and I just check which ones are being assessed in that particular assignment.  At the bottom, I have the option to score those standards separately, which actually makes it easier to grade since it's like a rubric!
I'm also using a combination of holistic scores on a scale of 1-4 that correspond to percentages.  I'm still tweaking that part since I'm not entirely satisfied with how the report card comes out.  If I don't tie the score to a percentage, then it gives a 1-4 for that standard group.  However, that doesn't play nicely with our percentage-based report card that goes out every 6-weeks.  So I'm trying it out this way for now.
For now, here's what a student's grade report would look like: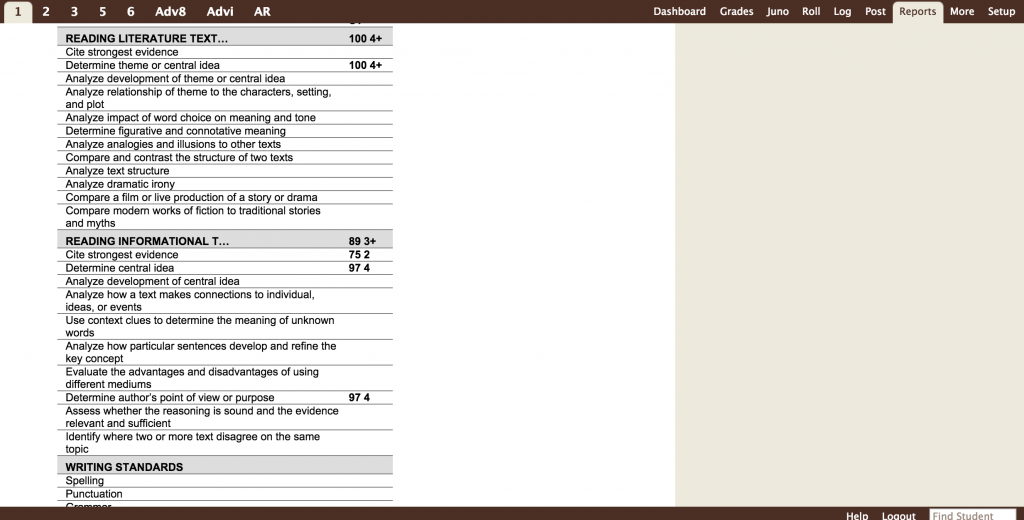 How I'm grading
I'm using this grading scale from Marzano's Formative Assessment and Standards-Based Grading:

I find this scale much more meaningful than a percentage, particularly since students can always redo work until they reach the Target learning goal in that standard. I don't even deduct points for late work since I'm assessing them on whether or not they met the standards, not on their punctuality!
I'm also a non-zero grader, so you're not going to see zeros in my gradebook, just blanks if they didn't demonstrate the standard with that assignment. What this means is that students will need to meet that target learning goal at some point, and I'll discuss with them individually how to do that. This doesn't negate them having to do the assignments, but they will still need to do the work to fill that blank.
How are you currently grading? Have you tried standards-based grading! I'd love to hear your take on this!