Ah, the joy of back-to-school in-service days. The long meetings with agendas set by administration. At least an hour poring over the staff handbook (again).  Being the passive receiver of content rather than engaging in or creating it. The double-standard of constantly being told to not teach this way, while enduring it year after year. This is the perfect time for real professional development, but other agendas typically get in the way.
Things are changing! This time around, my school decided to seize our in-service days, and not only provide our staff with real professional development, but more importantly, choice.
A little background
My school district runs on a year-round schedule, which results in more frequent, small, and evenly-spaced breaks throughout the year.  Consequently, it also means that while many districts in the country are in their third week of school, mine just wrapped up its eighth week, and we're now on Fall Break.
Towards the end of last school year, the resource specialists for each core content met together with our principal to discuss PD. We'd been holding tech trainings on Fridays during lunch with modest success, and wanted to continue something in that vein the following year. One of us (I honestly can't remember who) got the brilliant idea of holding a mini-conference that we dubbed an EduCon.  The staff would be presented with a schedule of sessions, much like a "real" conference, and would have the choice of attending sessions that they felt would be valuable to their professional growth.  We decided that we would meet over the summer to plan it and put it into action.
The logistics
During our summer meeting, it took quite some time figuring out the logistics. First, we had to determine what types of sessions that staff would find useful.  Technology? Differentiation and scaffolding? Best practices? Assessment? All of the above?
After narrowing it down, we carefully created a schedule.  We thought this would be easy, however there were factors such as a natural progression from one session to another (e.g. learning JupiterEd basics before how to create and submit assignments) and leaving some of the more "engaging" ones towards the end so that teachers wouldn't bail. Even after we left the meeting, we continued to refine it up until the day before the EduCon.
I created a Google Form so that staff could sign up for their sessions. In this form I used the add-on Choice Eliminator so that there wouldn't be thirty participants in one session and three in another.
We also decided to create a "passport" that participants would take with them to each session.  At the end of the session the facilitator would stamp it, and at the end of the EduCon, those with a stamp for each half-hour session would be entered into a raffle for Starbucks gift cards, premium parking, etc.
[embeddoc url="https://kimberlyl.edublogs.org/files/2015/09/PD-EduCon-Passport-1rey54q.pdf" viewer="google"]
The first annual EduCon
After the initial greeting and team-building activity, the facilitators presented their topcis so that the staff would have a better idea of what would be covered in each session. After that we led them through the sign-up process and explained the passports. I have to admit I was a bit amused when, after explaining the Choice Eliminator, some people panicked that space would run out in their session of choice!
There was definitely a buzz in the room, and everyone seemed excited about not only having PD in lieu of a boring meeting, but that they had a choice. It's amazing when we, as teachers, feel respected enough to be able to determine what we think is best for where we're at in our journey.
After that we dismissed everyone to their first location. At the end of the final session, the participants were asked to complete another Google Form and give us feedback to help guide us when planning future PD.
The feedback
There was nothing but positive feedback!  In terms of what teachers found useful: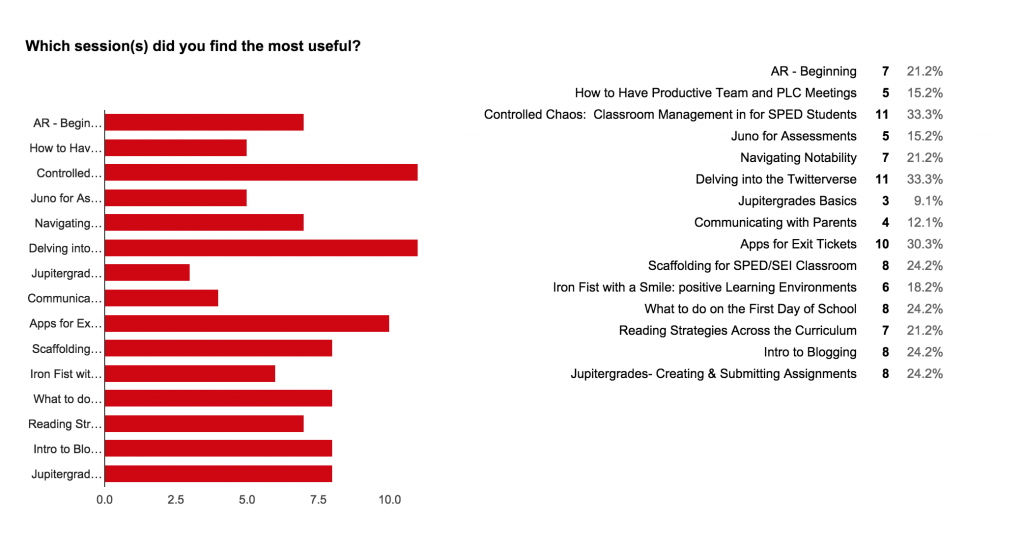 After selecting which workshops they found useful, they were asked, "Please describe why you found these particular workshops useful." Some responses were:
This was content I was most interested in. Presenters did fabulous jobs!

The ability to select what I wanted to cover made it more interesting.

These are the things I wanted to (and needed to do) this year so they were very relevant

Specific, concrete examples were modeled.

Best practices refreshers and assistance in the implementation of technology.

These particular workshops were useful due to being items I am or will be using within my classroom. They were reassuring I am on the right path.
In response to, "What did you like about formatting our professional development as a mini-conference," participants answered:
The ability to choose based on my interests (this was expressed many times).

I like this format more than the standard, one room, PD.

It was awesome that we could chose the ones we wanted to attend and best met our personal needs. There were also a wide variety of topics available.

Fun. That was present this time. 🙂


Very cool. I enjoyed the 25 minutes of rotations. At no time did I feel time being wasted. What a good way to learn with your peers in a non-pressure format.
When asked, "What DIDN'T you like about formatting our professional development as a mini-conference," the main complaint was:
Needed a little bit more time for sessions.
For our next EduCon
After our two-week Fall Break, we have another in-service day, with yet another EduCon planned!  This time the focus will be on technology. We're also implementing the following changes:
Prior to the break, we sent out a survey and asked the staff what type of PD they would be most interested in attending. This guided which sessions we would hold.
When signing up for sessions, participants will be reminded to mark on their passport which ones they actually signed up for (many forgot which ones they were supposed to go to)!
Each session will be one hour and will be held twice.  This will ensure that participants can spend more time really delving into the material rather than having it be an overview. Also, if they have two that they're DYING to go to, then they can easily attend both!
Also, when we have our EduCon after Winter Break, I'd love to invite other staff to facilitate sessions, and not just the resource specialists.  I know that everyone has something to offer, and that we can all learn from each other. I'd love to attend a sessions where a representative from each content area demonstrating how they use an app, incorporate reading and writing, student collaboration, etc.!
I'm very proud of our school for blazing this trail, and am honored to be part of such an innovative team. While we're probably not the only school that has done this, but I know we're the only one in our district (for now)! Teacher-led PD on topics that teachers find valuable – what a concept!