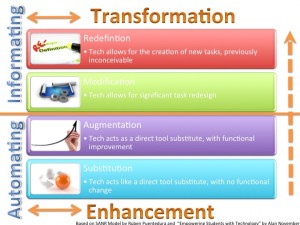 Last month, I mentioned in a post that I had attended the San Diego GAFE Summit. During this conference, two sessions really stood out to me: one on the SAMR model and Google Apps and one on how to survive the zombie apocalypse with Google Apps. While the facilitators were wowing me with their content, I started thinking about how I could incorporate Google apps into a multi-disciplinary project. I was inspired to try to "Googlize" a unit as a means of moving up the SAMR model while teaching the students to harness the power of collaborative work through Google apps.
This project is based on a unit that I've always wanted to do. I thought it would be relevant for students to review the different presentation apps available to them since they will be required to do presentations throughout their education. This is a pretty involved unit, therefore I'm splitting it into two parts.
Also, I'm writing this post using the instructions that I gave the students at various points, plus any relevant notes to help you during the process.  At the end of Part 2 (which I will publish next  Tuesday), I'll include the Google Slides presentation that I used for this.
Activity 1
What questions should you ask yourself before making a purchase? Watch the video to see how this person determines which Bluetooth headphones to buy:
1) Go to todaysmeet.com/MrsLepre (NOTE: that classroom is closed now)
2) Sign in with your REAL username
3) Respond to the following questions:
What questions should you ask yourself before buying an app?
What Features are important to you when it comes to a…

Social Media app?
Photo Editing app?
Presentation App?
You will be required to create presentations throughout your education. Out of apps available to you on your iPad, which is the best one? What makes it the best? What criteria do you use to decide?
Activity 2
1) Divide these articles between your group members (one per person). Download your assigned article and open it in Notability.
2) Download this document and add it to the end of your article (this was originally created in Google Docs, but I converted it to PDF so that students could annotate it along with their assigned article).
Presentation App Article Analysis
3) After reading your article, answer the questions.
Activity 3
Now that you've read about how presentation apps are evaluated, as well as determined which criteria is most important to you, you will share your top 5 criteria in a discussion post on Jupitergrades.
You will also respond to one other classmate and discuss why you agree with some of their criteria and disagree with others.
Rubric
Task

Pass/Meets Expectations

Initial Discussion Post

Original post lists FIVE criteria for assessing presentation apps

Response to one other student

Response directly addresses original post.

Identifies which criteria they agree with.

Identifies which criteria they disagree with.

Uses complete sentences.
 Activity 4
You and your group will each choose one of the following apps to test-drive and review:
Explain Everything

Google Slides

Prezi

Keynote/Powerpoint

Adobe Voice
Based on your answers to the article analysis and your peers' answers to the discussion post, you and your group will select five criteria that you will use to assess your app for effectiveness. (Note: I discouraged them from using "price" as a criterion because all of the apps were free to them. I also discouraged them from using just the word "quality" and required them to be more specific, since quality is subjective from person to person.)
Select a group member open the link below in Google Sheets and share it with the rest of your group and

Mrs. Lepre

. You will work collaboratively on this document.
Presentation App Evaluation Data
Once you've shared it, rename it

PERIOD ___ GROUP ____.

Next, add the five criteria under "Criteria and Description".

While you are creating your presentation, you will take notes in the following Google Sheet to document how well your chosen performs for each of your 5 chosen criteria. Since you shared it with me, I will be monitoring you and giving you feedback as needed.
Activity 5
To test-drive your app, you will create a presentation on a topic of your choice.  Be sure your topic is appropriate. If you have to questions or ask if it's an appropriate topic, then it's probably not appropriate!
The presentation must include:
A minimum of 3-5 slides.

3 Creative Commons FREE photos with

proper attribution.

Transitions between each slide.

Text on each page explaining your topic.

Each slide must contain a different color of text

If possible, a voice-over.
If your chosen app cannot perform one of these requirements, be sure to indicate it in your notes in the shared Google Sheet.
Here's an example of what it looks like (Note: there are five choices, however, most groups only have four people. I wanted an extra choice for my groups of five):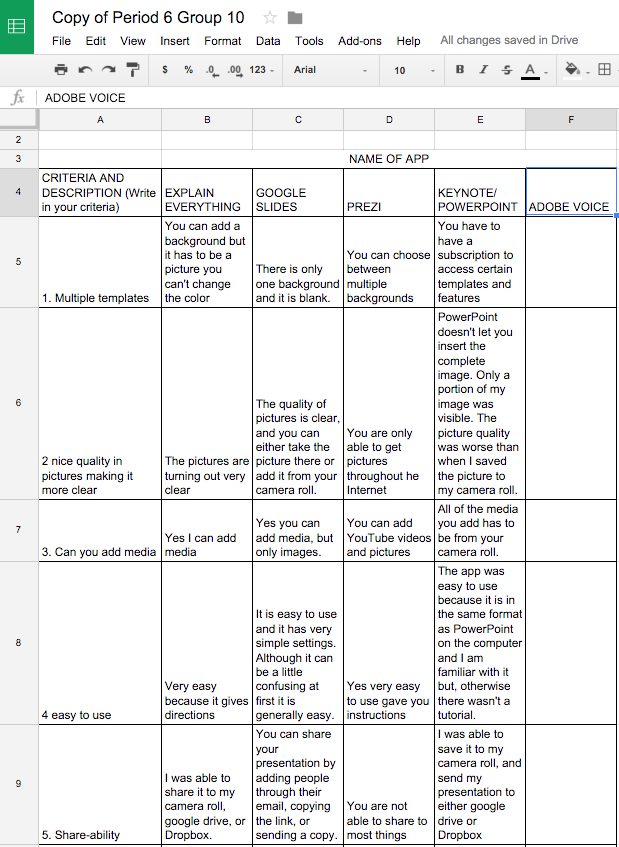 That's the end of Part 1.
As you can see, I incorporated:
Youtube
Today's Meet
Notability
Forums in JupiterEd
Google Sheets
These are just some of the apps that I could've used. See if you can incorporate any of these elements or apps in your lesson. If you would change, modify, or add a twist, let me know in the comments below.